In the "100 Greatest Climbs" app there's a cluster of 6 at the intersection of Surrey, Kent and Sussex. More accurately, it's a cluster of 4 and another cluster of 2 a bit further away. Doing them all in one ride would make a good day out. But doing them as a 4 and a 2 and driving between the two sets seemed like a better approach to me to be back home before the roads get too busy. It should be about 4 hours driving and 3 hours cycling, all-in without much time for breaks.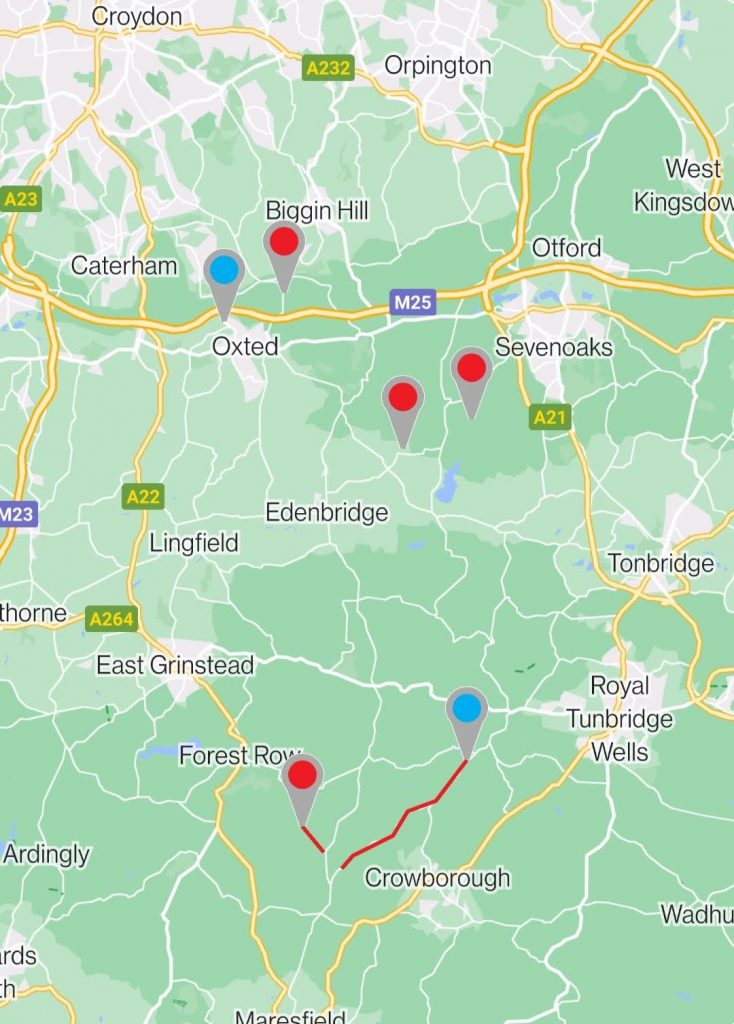 So here's the route for the first four. Planning to park at Scearn Bank car park.
And here's the route for the second leg, starting from Gills Lap car park. Obviously there are different options available here depending on state of tiredness etc. But ideally all 6 could be done in one session as it's a 1.5-2 hour drive away and would be nice to just get them done and move on.
Procrastinate
It was so hot on Friday that I decided to do this on Saturday with a fairly early start. That should help to miss traffic, get a parking space and get most of the ride done in the morning before the wind and temperature gets up. In the end I woke up at 0430 – it was daylight – and I decided to go for it then and there (surprised myself).
First Leg
Google Maps got me to Scearn Bank car park perfectly. It was suitable and empty (at 0700 on Saturday morning). Having got everything ready, I set off at 0720. It was lovely and quiet at that time of day. There was one closed section on the first ride (after Toys Hill) that turned out to be a private driveway (so below I've embedded the actual route I took – it added a mile or two).
Chalkpit Lane (blue) 0.97mi, 129m, 10%, 20%
Going under the M25 road bridge near the start of Chalkpit, the Garmin lost satellites for a few seconds causing the 'live segment' tracking to close. Importantly, it still tracked the ride – just didn't show me my segment progress live or how close I was to finishing the hill (which is helpful to gauge your effort on long climbs and know when to start and stop filming). It's a decent climb, it narrows to banked sides and kicks up to 20% in places. Most of the road surface is OK, but there are some holes and drains. There's always a decent path though. I don't think it would be much fun with lots of cars about, so I was glad I went early.
White Lane (red) 0.41mi, 91m, 13%, 22%
The start of this one crept up on me. On this route you have to make a left turn part-way down a descent to start the climb. I overshot it slightly and had to turn round, and was also horribly in the wrong gear. (Probably something to do with Komoot not giving me enough notice – its navigation prompts are distance-based not time-based, so if you're going fast they can come a bit too late.) This climb was quite hard, exacerbated by being quite soon after the first. It's a narrow country lane. Not that long at 0.41 miles, but that 22% section near the end makes it tough and there isn't much width for passing – particularly with overgrown undergrowth at the sides. I only came across one car coming down (and then another right at the end), but this hill would be quite nasty if busy. It's a bit more of a 'short, sharp shock' than Chalkpit.
Riding between White Lane and the start of York's was a lovely scenic route of about 10 miles, taking in Ide Hill (which isn't very steep or demanding).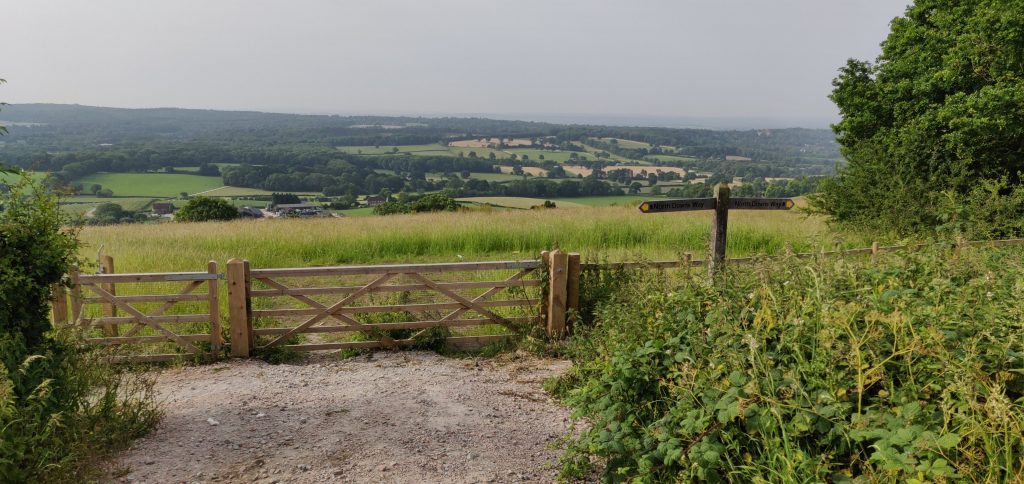 Going up Ide, I caught up with another rider who'd passed me on the previous downhill and we had a bit of a chat before he turned off to do Toys Hill (which was on my itinerary for later on, but from the other side).
York's Hill (red) 0.43mi, 85m, 14%, 20%
York's Hill felt like the hardest of the lot. This was backed up by my peak power stats and the fact that I had to stop for a rest at the top. It's a crappy road surface covered with gravel and debris, steep, twisty and narrow. At 14% average, it's a great little challenge though. Then I got to descend Ide hill again on the way round to Toys.
Toys Hill (red) 1.61mi, 174m, 6%, 18%
At 174m, Toys has the most ascent on this ride (and for the whole day), but was easier than I expected. Reading the blurb in the "100 Climbs" app, I was expecting it to be tough. Yes it kicks up to 18% for a bit in the middle, but overall I found this one fairly gentle compared with the other three so far. It's also a nice wide, well-kept road with an overall average slope of 6%. More of a steady climb than the 'smashfest' needed to scale Yorks.
After Toys Hill I had to deviate from the planned route slightly when I discovered that the intended 'road' became a private driveway (and public footpath), but the Komoot map was useful here and I could see a loop round that only ended up adding about a mile. I got back to the car park at about 0930, had some food and got ready to drive to the next section.
Second Leg: Ashdown Forest and The Wall
It took about half an hour to drive to Gills Lap car park, which acted as a bit of a break. I was able to eat some food and drink some of my coffee on the way. It was perfectly suitable and situated ideally for the last two climbs of the day.
Ashdown Forest (blue) 4.74mi, 174m, 2%, 12%
Ashdown Forest climb is more of a five mile rolling drag rather than a single actual hill climb. It's certainly a very pleasant ride and I enjoyed it – particularly starting with a long, gradual descent from the car park to get to the start of it. At one point I went past a shop and another rider was just finishing a break. I heard the characteristic 'click' of him clipping in and thought 'okay now there's a target on my back' but he didn't quite catch me. There's no video because it was very long and the camera battery ran out. But I was able to pick up a spare from the car before descending and re-climbing the Wall.
The Wall (red) 0.93mi, 119m, 9%, 17%
Like Toys Hill, The Wall was a bit easier than expected and probably for the same reasons. It just didn't seem quite as bad as the write-up in the app made it out to be (which is totally fine by me). Neither hugely long nor vastly steep, but with a good quality road of decent width, it was a pleasure. It could just be that I was fairly fresh after the drive and a fairly easy 12-mile ride through Ashdown Forest.
Overall
It all went really well apart from the car journey back and the slight route planning error in leg 1. The 0430 start meant I was finished riding by about 1220. I then spent a bit of time sitting in the car eating and drinking and enjoying the air-con. Then programmed the nav to get me home and it said 2 hours 35 (should have been 1:50). Multiple hold-ups on the M25 on a Saturday early afternoon and generally heavy traffic. That was unexpected and annoying, but everything else was perfect. It was a really good trip.
Scearn Bank car park and Gills Lap car park were perfect staging points for these rides. If you want to tick off 6 of the 'hundred' (4) and 'another hundred' (2) in one day, this is a great way to do it.