I had a few targets in 2022. I'd decided not to set any overall annual mileage targets though, but more qualitative goals. Here are the goals I set myself at various times during the year…
Win a Zwift race
Finish off 12 consecutive monthly mileage records
Get the Tron Bike in Zwift (50km of climbing)
Try a Cyclocross race
Do some more of the "100 climbs" series
Set a new 10 mile TT PB
The only one that was distance related was to continue the full year of "12 consecutive monthly mileage records" which I started in June 2021. I managed to complete that, which meant avoiding having a sustained period of time out of the saddle for a full year. Thereafter I wasn't focussed on maximising mileage at all.
As it happens, I did set a new overall distance for the year record in excess of 8,000 miles, but that was a side-effect of enjoying my riding, not the main goal.
Win a Zwift Race
I did my first Zwift race in December 2021. It was a Crit City 8 lapper and I came 8th in C. I hadn't really got much of a clue what I was doing and didn't know any racecraft or have any drafting skills. I didn't really do much racing for the next couple of months apart from a private GC series with some Cyclechat mates. Being a bit "challenged" at the longer duration end, I picked out the shortest race I could find – LaGuardia Loop 1 lap – 4km and had a go at that on 1st March. That was my first podium – silver.

After a few more goes, I found a 10km race in early April and managed to win that. YAY! Overall I managed to win 6 golds in 2022 – most of them were short punchy climbs, but I did manage to win a 20km race on Stage 3 of Race Like a Champ in October…
Overall I did 88 races in 2022. 6 golds, 7 silver, 7 bronze. I think the result I'm most pleased with is probably the bronze on Roule Ma Poule from November 8th in our EMEAW W division 1 ZRL race. That one ended with an intense climb up the reverse Petit KoM in which I crossed the line 4th, but the guy in front of me was disqualified. First podium in ZRL – a landmark result.
Finish off 12 consecutive monthly mileage records
I managed this one and then backed off the focus on mileage. June-Dec 2021 in green. Jan-May 2022 in black. I deliberately didn't exceed June 2021's total this year as I wanted to stop, having completed the goal.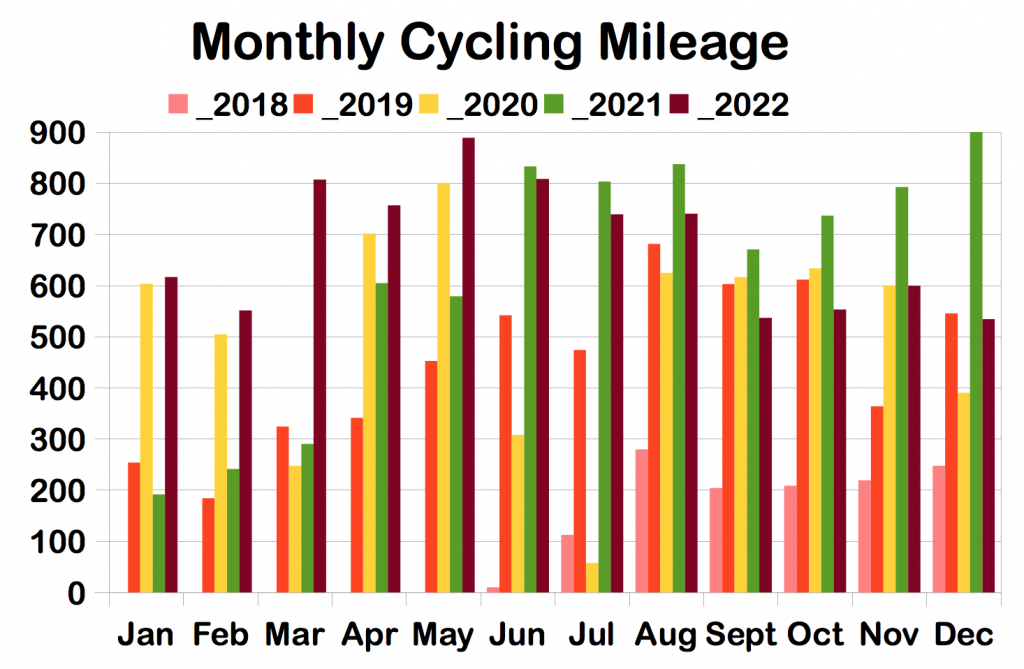 Get the Tron Bike in Zwift (50km of climbing)
The Tron bike in Zwift is a reward for 50km of climbing. I originally thought it might be achievable in about 4-5 months but it took a little longer. I managed to get it in early June just before signing off Zwift for the summer. The reason it's worth having is that it is a good all-round bike for flat/rolling courses (that's why you see a lot of them in ZRL races). It's regarded as the best "all-rounder" in the game, so useful to have.
Try a Cyclocross Race
In July and August I did 4 summer cyclocross races at Milton Keynes Bowl. Intense like you can't imagine. Essentially it feels like a 40-minute VO2max ride. Lots of fun and I enjoyed it, but I didn't bother with any of the Autumn/Winter season because I got well into Zwift racing and you can't do it all.
Do Some More of the "100 Climbs" Series
In June I did a few trips to ride some of the "100 Climbs" and "Another 100 Climbs". Also did three on a May trip to the Lake District. At year-end 2022 we're sitting at 19 of "the 100" and 10 of the "another 100" ridden.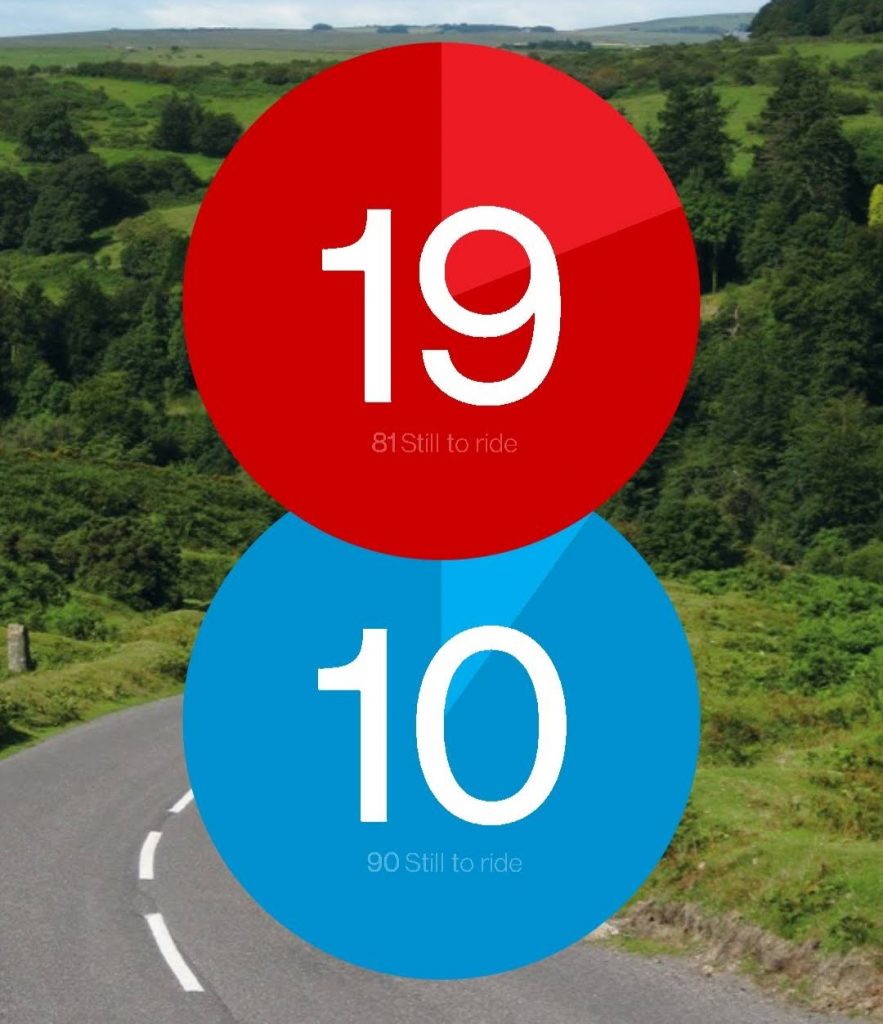 Honister Pass on the Lake District trip and several of the climbs I did with Rory in Wales were real standout efforts. But I think the highlight had to be the 10 hour, 105 mile, 3131m hilly ton in 30°C. Rhiwr road was an utter bastard both climbing and descending, but the Rhigos descent with motorbikes unable to catch us, was a pure joy.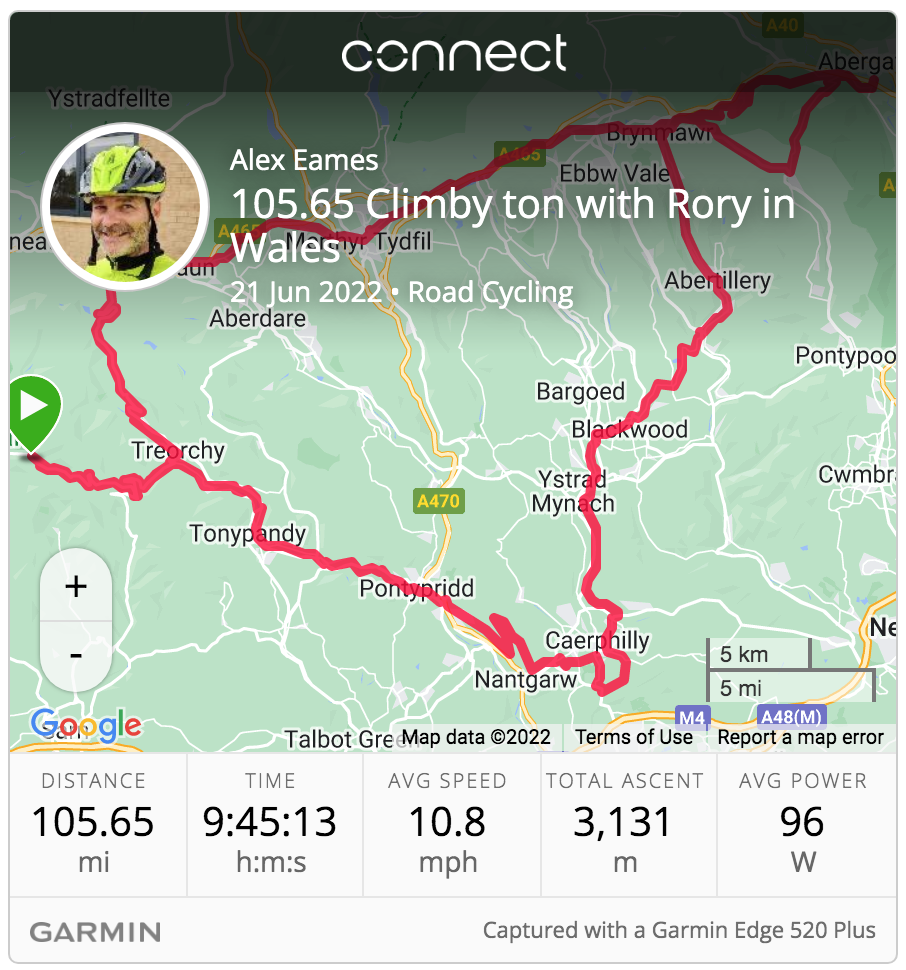 That was a big day. For a rest the next day we did Constitution Hill in Swansea, followed by the Bwlch…
Set a New 10 mile TT PB
I only did one time trial this year. I targeted the best weather slot and happened to hit my peak fitness for the year as well. All the planets aligned and I managed 26:05 at Weston-on-the-Green (previous best 26:27). Also set a new outdoor 20-minute power record on that ride of 236W. I decided to leave it there and focus on the hills, trips and Cx races after that for the rest of the summer season.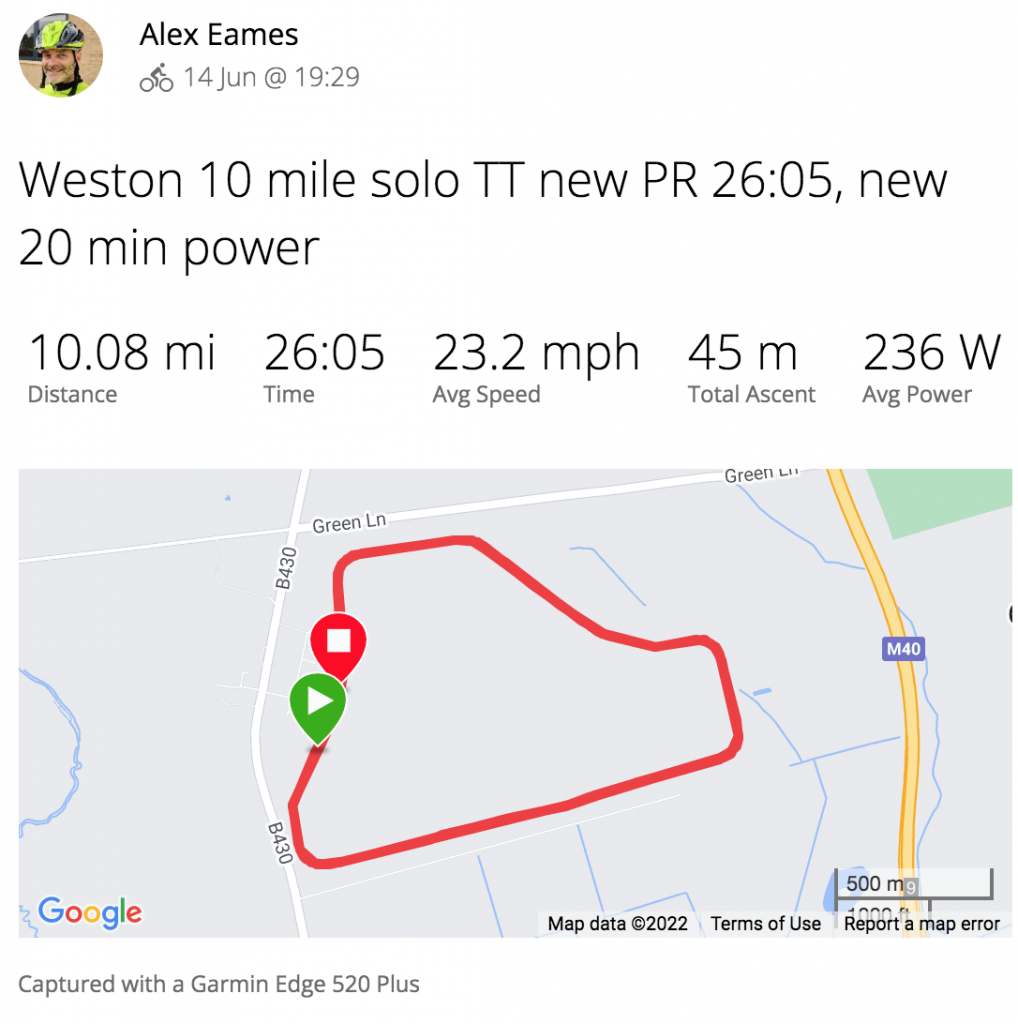 The Goal that Wasn't a Goal
Despite not setting a mileage target for the year, by focussing on "enjoying my cycling" I have exceeded my previous annual mileage record with 8155 miles. Previous best last year was 7484.
I haven't set any targets for 2023 yet except the one overwelmingly important one "to enjoy my cycling". No doubt, as the year progresses I will identify some targets and try to achieve them.